Connect with your social network account
Intermediate

Posts: 112
Joined: Fri Jun 02, 2017 2:27 pm
Location: Dubai
Has thanked: 11 times
Been thanked: 15 times

This Intermediate drive was organized by
@Booy
. I can say I like the style of his tracks - they are very challenging, but he is carving them with a specific grace that makes the flow nice and characteristic, so I was looking forward.
The day was very hot, the temperature reached 49°C (some had even 50+ figures on their displays). We started south from Al Madam, and entered straight in the area of big dunes. The sand was super soft on that day and we struggled to overcome the high climbs. The convoy didn't start well. Booy climbed one slope, made a side crest and left us trying unsuccessfully to see him again

Gradually we got the right pace and started to get in speed, but there were plenty of multiple tries. As you can see from the attached map, at some spots Booy didn't leave any dune untouched.
@Gabor
had to leave us earlier due to a tech issue. The convoy kept regrouping because of 2nd tries and eventually I happened to end up at the tail (which is not the best strategy if you struggle with climbing and soft sand). Often the only solution at such conditions is to find a fresh track to keep the traction of your car, which is apparently difficult after all the cars ploughed the area all around. Now I have to tell you a secret. It made me to develop a hack, which I doubt marshals would approve, so don't take it as a recommendation - I found it faster on that day to get stuck on the dune and get pulled over the crest by a rope than to continue multiple tries

.
Anyway, we finished safe at the end of the day, after nearly 50 km driving and 3 hours in the desert. It was a great day, thanks
@Booy
, thanks the advanced supporters
@Arminjune
and
@Youssef.Abdelhady
and all my dear fellow intermediates.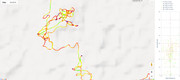 Marshal

Posts: 238
Joined: Sat Jun 13, 2015 12:55 pm
Location: RAK
Has thanked: 135 times
Been thanked: 126 times
Hello everyone,

It was a melting hot Friday afternoon, but nevertheless, we WILL drive :)

After a quick briefing, we started moving around the back of the first big dunes, to avoid the other two clubs who started driving just a few minutes before us. The plan was to end at Badayer shops, but as you can see from the picture that Petr posted in his trip report, we got a bit distracted by the untouched dunes, and we made sure we tackled them from every single angle - leaving all the crests pretty flat :)

It was a great Friday afternoon, and before we knew it, fuel was running low (we later discovered this was a false alarm due to the angle the Jeep was parked ;) , and the sun was on the horizon. We exited from Iftar bowl through the farms and stopped at Adnoc to inflate.

Thank you everyone who joined - it was hot, but it was fun!

See you soon...

Regards,

Booy
@Booy

Blue FJ Cruiser, with an Atlas on the door
Intermediate

Posts: 66
Joined: Sat Mar 10, 2018 3:50 pm
Has thanked: 4 times
Been thanked: 10 times
It has been a long time since I did an inter drive, reason, being stuck in Abu Dhabi, but finally the day cam again.
We met at the meeting point, did the drills & briefing.
@Booy
was leading & the convoy order was in order order. It was a super hot day. We started nice & slow heading into the dunes, then
@Booy
put the hammer done & off we went. I could see that I was rusty, did a few silly mistakes, my passenger (first inter drive) made a nervous laugh. My following distance was to close & I paid the price having to do a second try early in the drive

, but we kept going. I think a lot of us were a bit rusty, "silly" mistakes were made, but then eventually we got going bobbin & weavin over the dunes.
As I said it was super hot, looked up & saw my displayed said 54...

. The patrol was running "hot: but we kept going, had too kill the AC which meant a hotbox inside on fire . We stopped for a break, I opened the bonnet so Asterix could breath better &

down again. We went off again, I had a few second tries, actually I had a third & fourth try as well

, but I got it done. There was a pop out & then a jeep that "overheated" which gave me a chance to let Asterix breath aswell.
Overall it was a very nice drive, super hot, but still fun.
Thank you
@Booy
for organising & the advance that was keeping an eye over us.
Till we meet in the sand again, take care & stay safe.
Rooies