Hi Almosters
After postponing the "Hells Bells" due to some necessities, we have decided to explore a new area for the next advanced drive. Exploration trips are fun and exciting but dangerous at the same time. So I named the drive "Dead or Alive".

Thanks to
@Abu Odai
for the new area suggestion as it all started with a video he sent me. The dunes were looking beautiful and the guys were having "fun" . So we learned that area and off we go!

It was a long night drive to the camping point and thanks to
@Rashidjass
for going early and confirming that the drive to the camping point is smooth and no issues on the way.
When I arrived, most of the members were already in bed except
@Abu Odai
and
@Yazan Ali
so after some chitchatting they left for their beds too..... I put the entire bundle of woods I brought to fire and fall into sleep on my "chair" watching stars (We had to save weight for tomorrow

)
It was a cold night and there was a chilling breeze in the morning but the scene we woke up was amazing!!.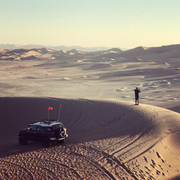 After some morning routine we were good to go!...I will not tell much about the drive because I cannot describe how much fun I had

We had a very strong group of drivers which made this great drive possible and I just want to thank them all for this amazing day
@Rashidjass
@SINGH
@Abu Odai
@Yazan Ali
@Issa
See you on the next adventure!
Best Regards