Connect with your social network account
Moderator

Posts: 321
Joined: Sat Oct 21, 2017 11:59 pm
Has thanked: 13 times
Been thanked: 3 times
Contact:

Short version :
Karma is a B**** !!! and NEVER get on the bad side of THE WISE ONE !!!
Long version :
Previous EIB I was stationed at the last checkpoint (checkpoint 5) with Haider, someone got stuck real bad and Haider drove to help that person and got himself stuck. Shortly after that [mention]Johanna[/mention] reaches my checkpost, gets her coordinates checked, gets the sticker of approval and continues to drive to the finish line. About 5 minutes later [mention]giorgio[/mention] passes by and gets his coordinates checked, gets the sticker of approval.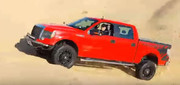 before he drives off towards the finish line, I show him where the finish line is because it was visible from my checkpost and also give him a tip on which route Johanna took as both of us can see her Pajero standing on the finish line. We do a quick discussion which way to take and I still tell him to take the same route. I see him drive the same route and happy that he considered my advice only to find that moments later he is badly crested on a sharp crest.
Fast forward to this EIB's prep days and The Wise One starts saying that I wont even be able to get to the starting line. Although he also keeps saying that he wishes to see me become a marshal some day…
Friday we have EIB and Thursday evening I leave for camping with family where I will be responsible to take a convoy of seven cars into the desert and camp. On my way to the meeting point I stop by at a petrol station to fill up and as I am exiting the petrol station I see a family with a dead lexus GS (sedan). I offer them a jump start and as I pop Outlaw's bonnet open the Lexus driver is so frantic and worried that he just lifts Outlaw's bonnet up and jams his jump leads on my battery. By the time I step out of Outlaw he is already back in his car and trying to crank it, so I just stand there and watch him try. But his lexus just wont do anything. He tries 6 or 7 times but nothing happens.
Suddenly I realise that the jump leads are crisscrossed !!!! i'n a heartbeat I pull the leads off Outlaw's battery and by now I am about to strangle the guy with his own jump leads but he was already in stress and worried, so instead I calm him down and call for a recovery truck and take my leave from there. Upon reaching the meeting point I keep Outlaw running while waiting for others to reach, it takes about an hour for everyone to reach all the while outlaw is still running as I kept him on for obvious reasons.
When heading off into the desert I get stuck in a soft patch, try the good old reverse forward reverse forward trick but keep getting deeper and only making sand showers. Then I do self recovery with bringing the tyre pressure to 6psi and using 4L. Ones out of trouble I inflate to 10psi and continue towards the camp site. Within 20 seconds the engine drops into LIMP MODE and wont go above 2500rpm, with the rest of the 7 cars following me and the duties of being an Almoster I pushed outlaw till we reached the camp site and upon reaching there Outlaw just stalled completely and died, he wont even start upon cranking. Tried multiple times but there was nothing left in him, as if he just wanted to get everyone to the camp site and then just dropped dead.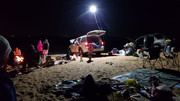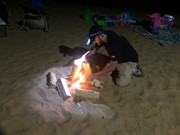 After setting up the camp and getting the fire and the grill started I call my mechanic and tell him about the limp mode, he offered some advice and I tried all of it but nothing helped so I decided to enjoy the rest of the night with family and take care of the problem in the morning. Next morning Outlaw starts without any hickups but still is in limp mode so I say my prayers and take the convoy out back on the main road and to the petrol station, get the tyre pressure back up and continue driving on limp mode all the way home. Upon reaching home Outlaw stalled and died again, wont start up again now and this is the EIB FRIDAY !!! crushed and disappointed I went home, took a shower and went straight to bed.
Saturday while going to work I try to start Outlaw but battery is completely dead (so much for helping that lexus guy), later that day upon returning from work I get a new battery and replace it hoping for some kind of miracle, Outlaw does start but now he won't even go above 1500rpm and shut off. I try again, revs to 1500rpm then shuts back off. After 7 or 8 tries I call Outlaw by some very nasty names and kick him and just go back home.
Next morning (Sunday) Outlaw is sent to the workshop on a recovery truck.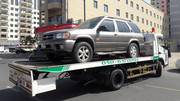 By evening I get the dreaded call from the mechanic so I sit down and brace myself before taking the call. Praying not to be a long list of repairs.
Mechanic : your pathfinder is ready
Me : WHAT!?!?!? well that was quick, I thought you were gonna give some bad news
Mechanic : what time will you pick it up.
Me : IT is a HE !! and he has a NAME !! and his name is OUTLAW…
Mechanic : yeah yeah whatever… when are you picking it up ??
Me : by 9pm… what was the problem with him ?
Mechanic : You really need to see someone about this whole outland thing, its just a car.
Me : its not just a car and its not outland… His name is Outlaw and he is family.
Mechanic : Well you were not taking care of your family then because it's whole air intake assembly was filled with sand and choking on itself. So no air to intake that's why your precious Outlaw went into limp mode.
Me : you're an @$$.. how much for the repair?
Mechanic : 100 for the new MAF sensor and 50 for cleaning the whole air intake assembly.
Me : I ain't payin you this time.
Mechanic : fine, get this piece of junk out of my workshop and stop bringing it back here. We have real work to do here.
Me : His NAME IS OUTLAW !!!!
Mechanic : **** you
Me : Piss off!!!!
The mechanic is a very oooooooold buddy of mine grin
All in all, if you are giving some one a jump start then make sure you plug the jump leads yourself and the most important part.
Never mess with The Wise One
I love this guy and will go to any extent to help him and stand by his side... just not his bad side grin ... I do not want to miss another EIB
Love you [mention]giorgio[/mention]
A
dventurous
L
eague of
M
ountains,
O
ceans and
S
and
T
hrills