Connect with your social network account
Moderator

Posts: 362
Joined: Sat Oct 21, 2017 11:59 pm
Has thanked: 244 times
Been thanked: 31 times
Contact:
Dear Fellow Almoster,
I have been contemplating about buying a new GPS system for months now and after reading a lot about all the options available in the market and asking as many Marshals, Advance, Intermediates, Crews, Newbies, pretty much anyone who has a GPS I came to the conclusion that the GPS of choice for many is the
GARMIN MONTANA 610
with all the bird's eye view features and track recording and all that.
So upon research I also found that this device does not come cheap, then again why would it be ? this thing is LOADED with features. This is a MUST HAVE device for anyone serious about off-roading and is well worth the price, in fact if you ask any of the senior members about the value of their Garmin and they will most probably say that its one of the most invaluable piece of equipment they have.
But it costs around AED 2000/-. Hence, apps to the rescue!!!.
After trying multiple apps which failed miserably and did not even come remotely close to function as perfectly as the Montana 610. I came across this one application which just might do the job for others like me who cannot spend that kind of money right away and have to save up or wait for sometime to get their hands on a Montana 610.
AGAIN, THIS IS NOT A REPLACEMENT TO THE GARMIN MONTANA 610. THIS IS JUST ME USING THIS APP UNTIL I GET MYSELF A PROPER GPS TRACKING DEVICE
and telling everyone what I discovered and how my experience has been with this app so far.
So first things first, the application name is
All-In-One Offline Maps
by Psyberia Ltd. and it comes in two different variants with one being free and the other being paid (AED 9.99/-).
You can read all the technical information about them and their features on these links :
I got the paid version because recently they made the offline maps option only for the paid version.
I just wanted an app that can be just as accurate as these fancy Garmins and help me in navigate while driving offroad but also have very detailed quality bird's eye view. If it can trace my tracks and save them then it would be a bonus but I dont need that at the moment since i don't really go that deep into the desert or even if I do then I always stay on the commonly used tracks and I don't really see myself leading any kind of drives or convoys in the near future.
Any how so this is what the logo looks like :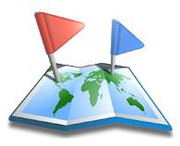 Now, this app has a bit of a learning curve to it and takes quite some time to understand how it works, I am still figuring out how to make it trace my tracks and log them or save them.
Still it serves my purpose of being my GPS guidance device without breaking the bank and it does all and even more than the following points listed:
Garmin quality accurate coordinate pin pointing
Tracks my exact location using multiple satellites and is extremely accurate
Allows you to download multiple map data area wise (google maps or any other maps)
The multiple map data can be of terrain type, satellite imagery type, road map type
Allows you to use it without any data package
Allows you to search for locations by Name, Point of Interest and even Coordinates
Allows you to enter, search and save multiple coordinates in all their writing formats
Allows you to give your saved coordinates custom names.
Traces my tracks/drive while offroading but stops and starts tracing again with a fresh track from the current point every time I lock the phone and turn it back on (I am sure there is something I am missing here)
Don't know if it saves my tracks anywhere or not (still haven't looked into this)
So as per my current list of GPS requirements to which I don't really see anything more adding up in the near future, this app pretty much does all that is required for me or any other newbie out there without spending any money on the Garmins grin .
THIS APP WILL USE DATA SUPER FAST
So before you do anything, switch off the online maps by doing this:
Start the app and tap the

MAPS & LAYERS

button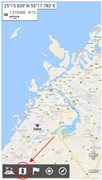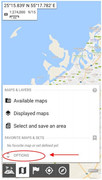 Check the

Use only local storage box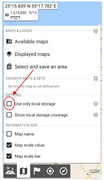 You can also check the

Show local storage coverage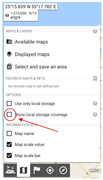 This will stop the app from burning through your data package by not freshly downloading any new section of the map which was not downloaded before. Also it will show you all the layers of zoom level coverage of every area stored on your phone.
Green means stored on phone
and
Red means NOT stored on phone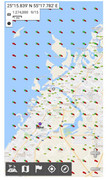 To make the app store all the map data in the memory card of the phone please follow the following steps:
Tap the

Map

icon on the lower left corner of the screen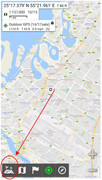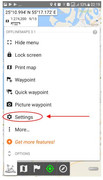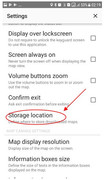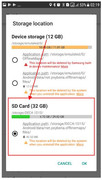 Now the app will store all of its data in the SD Card and leave your phone memory alone.
The fun part starts now, I am sure you all have other navigation apps on your phone to help you on the roads. As do I, so I just deleted all of the road maps use only the Google Satellite map for the bird's eye view. You can do this using the following steps:
Tap the

MAPS & LAYERS

button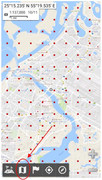 Tap the

Available maps

button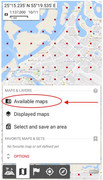 You will see a list of available maps on your phone. If you don't see any Google Maps then scroll down and tap the

ADD NEW MAPS

button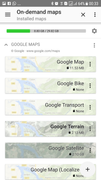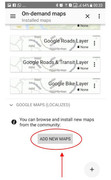 Tap the

Google Maps

button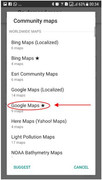 You should see all the different Google Maps in your list of Available Maps
Now delete all the of the map data within all those different type of maps in the list so you have enough space when you want to store the Google Satellite Map data by tapping the

3 dotted line

next to the map names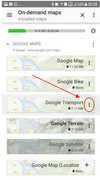 Tap the

Clear data

button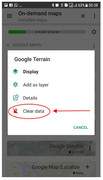 Tap the

Yes

button to confirm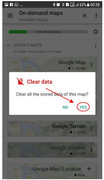 Now Rinse and repeat for all the maps grin
Now tap the

Google Satellite

button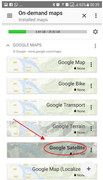 Now the screen should look like this and we are ready to rock and roll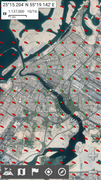 Now to search for places or even put in direct coordinates, its quite simple. Just follow these step.
Tap the

Placemarks

button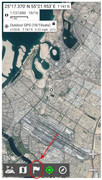 Tap the

Search a location

button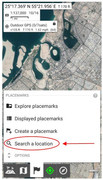 Tap the

Search Format

button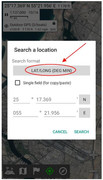 Now choose the format of your search parameters for example I searched for Fossil Rock by selecting the

Location name

option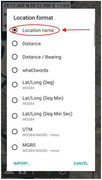 Then typed in Fossil Rock in the search box. After selecting the result this is what showed up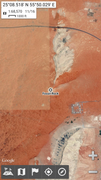 Now here is a sample of a few fully zoomed in pictures of Fossil Rock area and the petrol pump where we usually go for inflating
Fossil Rock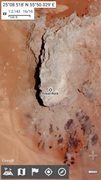 Point of crossing over the rocks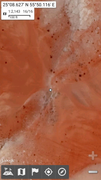 Power cable line/track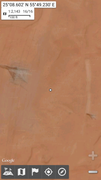 Petrol pump after Fossil Rock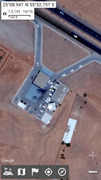 To search for coordinate simple repeat this process but instead of searching by
Location Name
search by
Lat/Long (Deg)
or
Lat/Long (Deg Min)
or even by
Lat/Long (Deg Min Sec)
depending upon the format of the given coordinate that you are searching for.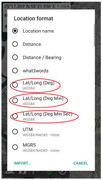 Enter your the coordinates you are looking for and it stores in the memory for all future references until you delete it manually. So for example if you have multiple coordinates you can search for all of them and it will store them and you can also individually name all these coordinates like Waypoint 1, Waypoint 2 etc.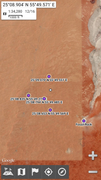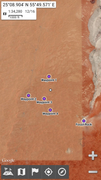 Now if you want to save a an area of the map for offline usage then follow these simple steps:
Tap the

MAPS & LAYERS

button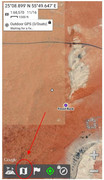 Tap the

Select and save an area

button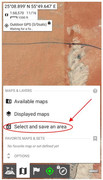 Now the app will give you an area to choose, select the area by zooming in and out or by changing the size of the box. Then on the lower part of the screen there is another zoom option with a green scroll bar this gives you the option to choos the level of zoomed in detail you want so the higher the better, drag it all the way to full and tap the play button.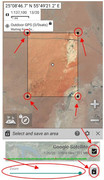 Now the app will download that area so you can use it offline.
So there you have it, you got you super accurate GPS device and super detailed bird's eye view and it didn't cost you thousands of dirhams.
Enjoy.
A
dventurous
L
eague of
M
ountains,
O
ceans and
S
and
T
hrills
Marshal

Posts: 311
Joined: Wed Sep 07, 2016 7:52 pm
Has thanked: 332 times
Been thanked: 222 times
Moderator

Posts: 362
Joined: Sat Oct 21, 2017 11:59 pm
Has thanked: 244 times
Been thanked: 31 times
Contact:
Now that I have had the chance to test the app, I tested this app and another one from the same developer.

All-In-One Offline Maps (Free version)
All-In-One Offline Maps (Paid version)

Alpine Quest (Free version)
Alpine Quest (Paid version)

I tried both of them and the triumphant was Alpine Quest (paid version)

The good news is that since the same team develops both of the apps, they are a mirror image of each other including the user interface, graphics, menu items, settings etc.

The bad news is that the app (All-In-One Offline Maps) that I have been using all this time does not track your movement properly and has a few bugs.

The better news is that the new app (Alpine Quest – Paid Version) has performed bug free and tracks you very accurately, I even went back and did the whole drive by myself all over again after refueling the car and myself and I could drive with the app taking me through the whole track.

It has done everything that I could possibly ask for at my level of drive and is very precise. From coordinate searches to multiple coordinate saves, track recording to full track details like elevation, average speed, maximum speed, minimum speed, break times, from bird's eye view to all sorts of different types of maps downloadable on demand.

I am sure the specialized GPS navigation devices have much more capabilities but I just simply do not have the cash for it and this app is doing what I need from it at my current level. I am pretty happy with it. I even went for multiple scout runs before the drive yesterday to find a nice camp site for my family camps and this app helped a lot by using the tracking feature, the multiple coordinate savings feature, creating multiple tracks for different locations, customizing them with color coordination and custom names. Not bad for a 35/- Dirham app.

Just like any other app it has a learning curve to it but it's not that steep of a curve and you can master it in no time. I would love to post some screen shots here but I cannot show our drive tracks on a public forum but I can mention some features of it :

• After recording the track you can set a PROXIMITY RANGE to it so that if you reach within that range of that track in future, you will be notified.
• Export the track in different formats like GPX, KML, KMZ, CSV, TSV, DXF etc. even JPG/Image file or TXT/Text file.
• Follow path in forward, reverse or loop order (in case of end to end connected track) and also set a limit of drifting distance allowed before it warns you.
• Statistics like length of track, total elapsed time, total stopped time, total running time, exact point of stopping in location and time and duration of each stop, elevation with min/max levels and gain/loss
• Elevation and speed graph of the whole track
• Moving speed average of whole track, highest and lowest, speed at a specific point in the track etc.

All in all it's a very handy app which does what it's supposed to do without breaking the bank. Everything in this app has a link to its online help webpage which gives detailed explanation of every feature with screenshots and illustrations.

As of now I have not encountered any bug or anything wrong per se with the app and as per my requirements it does what I need it to do. So I will keep using it for now and keep you all updated if there are any discoveries in future.


P.S. : I will be using this app for Eggs in Basket, you need to make sure you are entering the coordinates in correct format as there are 3 different formats of entering coordinates.
A
dventurous
L
eague of
M
ountains,
O
ceans and
S
and
T
hrills